FRZ Synthetic Indices EA is a fully automated trading robot that is designed to trade synthetic indices that are offered by Deriv and other similar brokers. The EA uses a trend reversal recognizing algorithm to enter trades. The EA is primarily designed for following indices:
Volatility 10 Index
Volatility 25 Index
Volatility 50 Index
Volatility 75 Index
Volatility 100 Index
Volatility 10 Index
Step index
Boom 1000 Index
Crash 1000 Index
Boom 500 Index
Crash 500 Index
EA Specs
Product name
FRZ Synthetic Indices EA
Current version
1.2
Platform supported
MT5
Timeframes supported
Any
Supported pairs
Any synthetic index
Minimum Deposit
$500 ($1000 deposit is highly recommended). This is for indices that offer 0.01 lot sizes. If the minimum is higher that that, you may have to have a higher deposit.
Minimum Leverage
1:500 (Leverage higher the better).
License

The license quantity represent the no. of trading accounts that you can use the software simultaneously. You can download the software instantly after the payment but you need to inform us your account number/s for licensing for activation. The account licenses can be transferred to a different account on a nominal transfer fee. Existing customers are entitled for free updates subject to our terms. The full details on the licensing policy is given here. The full terms and conditions including the refund policy are given on this page.

FRZ Synthetic Indices EA MT5

Support

Personalized support (remote desktop/providing set files) on first installation/automation (please request within 14 days of purchase). General live chat, support ticket and email support are available thereafter. However if you need personalized support (remote desktop/providing set files) for any installation/automation beyond this scope, you can always hire one of our experts at an additional fee. More details on support is given here.

FRZ Synthetic Indices EA MT5
A VPS server is recommended for this EA as it needs to be running 24/7.
Note on Deriv volatility indices: Not all indices can be traded using 0.01 lot size.
In forex, all pairs can be traded using the lowest lot size of 0.01 and this helps in risk management. But this is not the case with volatility indices as most of the indices do not allow 0.01 lot size. Please check the minimum lot size of the pair you are going to trade. You need to be careful with your deposit and leverage before using larger lot sizes. To check the minimum volume allowed for a specific pair, you need right click on that pair and then select Specifications as given below: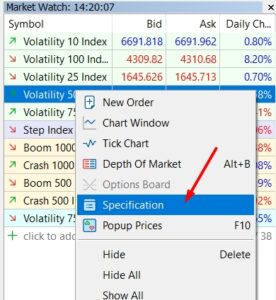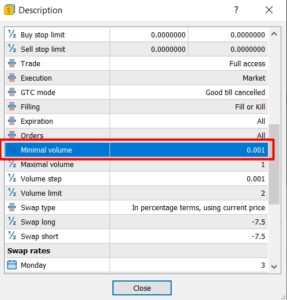 Please note that past performance of any trading system is not necessarily indicative of future results. Full terms and conditions are given here
FRZ Synthetic Indices EA MT5