FRZ Ultimate Scalper is an advanced and aggressive EA robot designed to work on M15 charts on MT4. This EA strategy has been fully reviewed and updated in 2023. It uses a proprietary smart entry system with an optional lot maximizing feature and a drawdown recovery algorithm. It also includes a choppy market filter and volatility filter that can effectively recognize the unsuitable market conditions for the EA to operate. The EA is FIFO complaint.
This is an aggressive trading robot with DCA averaging. There can be extended drawdown periods if the market goes against us. Always withdraw profits whenever you reach 25%of the deposit. And use an equity based stop loss based on your risk apatite (Minimum 25% equity stop loss is recommended). 
EA Specs
Product name
FRZ Ultimate Scalper (2023)
Platform Supported
MT4
Time frames supported
M15
Supported currency pairs
EA works on any currency pair. But following are recommended:

EURUSD, GBPUSD, USDJPY, USDCHF & AUDUSD

Recommended broker

EA works with any forex broker on both standard or Raw Spread/ECN accounts.

FRZ Ultimate Scalper MT4 (2023)

Recommended min. deposit
$500 Minimum per pair on 500:1 leverage ($1000 per pair is recommended). If leverage is less than this, you may have to increase the minimum deposit. Cent accounts can also be used.
Recommended lot sizing
0.01 lot size for each $1000 of the deposit per pair (Conservative mode – recommended)
0.01 lot size for each $500 of the deposit per pair (Standard mode)
Back testing

Back-testing is possible but it might not produce accurate results without special preparations as news and some of logics might not work properly in back-testing. Forward testing is recommended with a demo.

FRZ Ultimate Scalper MT4 (2023)

Current version
9.5
A VPS server is recommended for this EA as it needs to be running 24/7. We recommend this VPS provider. A VPS package with at least 2GB RAM & is sufficient for this robot.
Verified Live Performance on fxblue on a Real Account (Broker: FBS)
(You may click on the below summary for detailed performance analysis on fxblue)

Monthly Return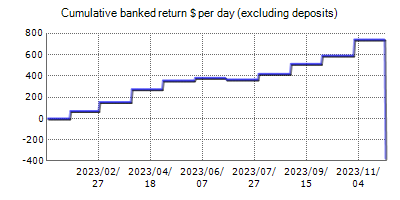 Installation Video
A user manual on settings is available on the knowledgebase.
Please note that the past performance of any trading system is not necessarily indicative of future results. Full terms and conditions are given here
FRZ Ultimate Scalper MT4 (2023)