FRZ Binary Blaster is an MT4 expert adviser (EA) that automatically trades Binary options on Binary.com connecting MT4 to Binary.com. You simply set it up once and then it will trade by itself 24/5. It uses signals from more than 15 indicators and analyzes them with a unique proprietary algorithm to identify high probability reversal points. Whenever the EA finds such points, it will automatically trade binary options on Binary.com completely on its own subject to the settings.
Features:
100% Automated – Setup once and leave and it will make money to you 24/5
It automatically trades on Binary.com based on signals generated on MT4
Built-in news filter
Interface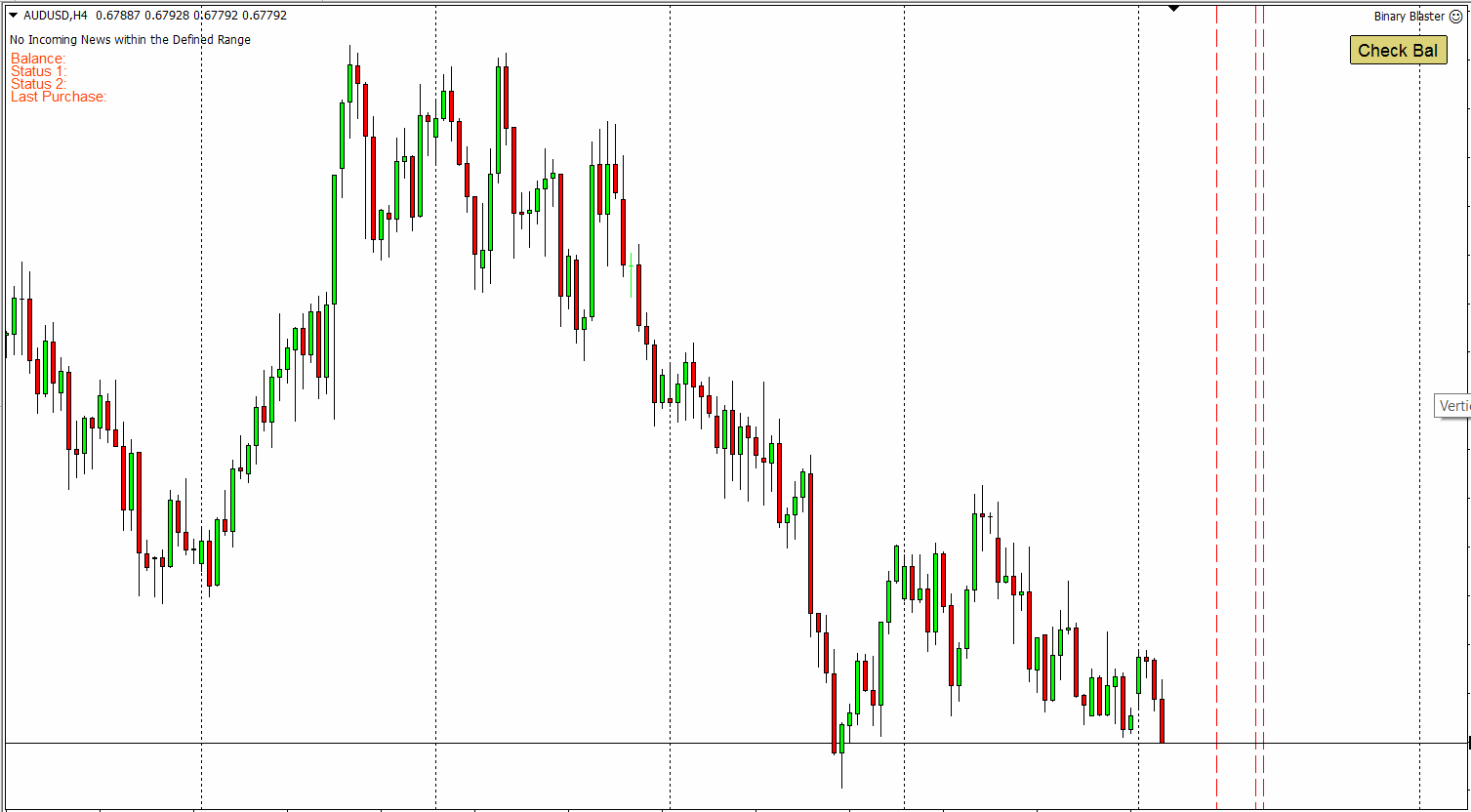 Installation & Usage Video
Quick Installation Steps
Open a DEMO MT4 trading account at any broker (we recommend alpari.com as their price movements are often similar to Binary.com). However, we are NOT making any forex trades on MT4.
Go to your account at Binary.com and create an API Token and App ID (You can first use a DEMO account)
Paste Binary.com API Token under EA setting No. 8
Paste the Binary.com App ID under EA setting No. 9
Place the FRZ Binary Binary Blaster (.ex4) file within your MT4's "Experts" folder
Place the BinaryAPI file within your MT4's "Libraries" folder
Place all indicators given within your MT4's "Indicators" folder. (You don't need to run these indicators, but just keep them within the indicators folder)
Go to MT4 => Options=>Expert Advisers and allow automated trading, DLL imports, and Web Requests and add following URLs to allowed URLs.

Now simply add charts and then load the EA to the charts (you can use it on up to 30 currency pairs as mentioned under specs).
That's all. Simply keep your MT4 running 24/5 and the robot will make trades on Binary.com automatically. You can check the binary.com balance on MT4 by clicking on the "Check Bal" button on the top right corner or by visiting binary.com.
NB: This EA may make option trades even if auto-trading is turned off. Therefore if you wish to stop trading you may have to remove the EA from chart. 
EA Specs
Product name
FRZ Binary Blaster
Forex Platform supported
MT4
MT4 Time frame
5 Minute Chart
Strategy
Our strategy involves finding very high probability reversal points.

Supported Binary Options broker

Binary.com only (IQ Options NOT supported at the moment)

Recommended minimum deposit

$100. (If you are using martingale option value per trade can be 1% of the deposit and if you are not using martingale you may use up to 5% of the deposit in a single trade.)

Back testing on MT4
Back testing is not possible as the EA makes trades on Binary.com. You can use a DEMO account before moving to a real account.
Accuracy
Past records have indicated 75%-87.5% accuracy level.

Please note that past performance of any trading system is not necessarily indicative of future results. Full terms and conditions are given here

No of trades per pair
EA does some heavy filtering based on signals from many different indicators.

Therefore you may only expect one or few trades per week per pair.

It is advised to use the EA on as many different charts as possible to increase trading. A VPS server is recommended (not compulsory) as the EA should ideally be run 24/5.
Supported pairs
EURUSD, AUDCAD, AUDCHF, AUDJPY, AUDNZD, AUDUSD, EURAUD, EURCAD, EURCHF, EURGBP, EURJPY, EURNZD, GBPAUD, GBPCAD, GBPCHF, GBPJPY, GBPNOK, GBPNZD, GBPUSD, GBPUSD, NZDJPY, NZDUSD, USDCAD, USDCHF, USDJPY, USDMXN, USDNOK, USDNOK, USDPLN, USDSEK

EA will take trades only in the currency pair of the chart it is attached to. If you need to make trades on a particular pair, you need to attach the EA to that particular chart in your MT4.

Accounts allowed

Up to 02 MT4 account numbers and 02 Binary.com API Keys and 02 App IDs & per purchase (One DEMO and one Real binary.com account). Account numbers, Tokens, and App IDs can be submitted after purchase and they cannot be changed later. We offer no refunds or returns.

After the purchase, visit this page to submit your account numbers.

Support
One-time free setup on your VPS. You need to provide us your VPS logins.
Current version
1.2
Settings
Setting Explanations
1. We recommend avoiding early London session where strong trends can occur. However, if you want, you can run the robot within this period too by enabling this setting.
2. Account currency, you need to type your Binary.com account currency here if it is not USD
3. Option value – this is the initial option value you are using. We recommend having 1% of your deposit as the initial option value if you are using martingale. For instance, if your deposit is $100, then the option value should be $1. However, if you do not use martingale, then you may use up to 5% of the deposit value in a single option.
4. Maximum Option value –  This is applicable when we use martingale where the option value is increased whenever an option is lost. The robot will check if the option value is equal or below this amount before purchasing a trade. Make sure this value is in line with the no of martingale steps given under setting 12. For instance, if your initial option value is $10 and you have 4 steps martingale, then the maximum option value is $160 and therefore you need to have 160 here.
5. Option duration – this is the option expiration; by default, it is set to 14 minutes. We recommend to keep it as it is.
6. Minimum payout % – Robot will not purchase options if the payout is below this amount.
7. Duration unit – this is minutes. You need to change this.
8. & 9. These are martingale settings. By default, we double the option value after a loss of up to 4 steps. If you want to disable martingale, just type "1" under setting no. 8. 
10. This is a trend filter you can you to filter overall signals given by the robot. Since we are trying to find reversal points, the likelihood of reversal may become lesser when the market is trending strongly. We recommend keeping this setting as the default value.
Past Records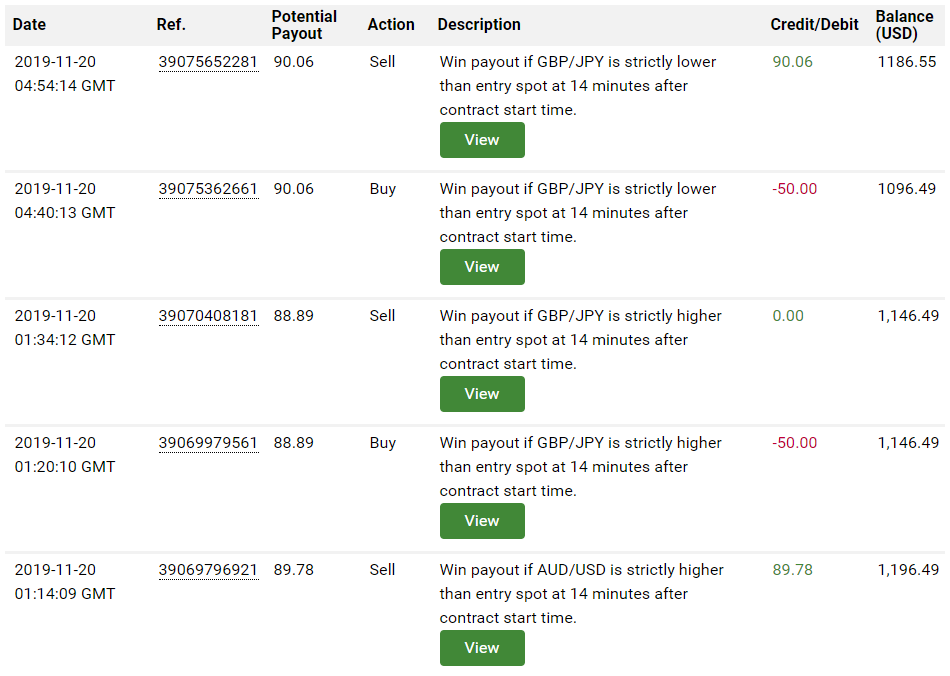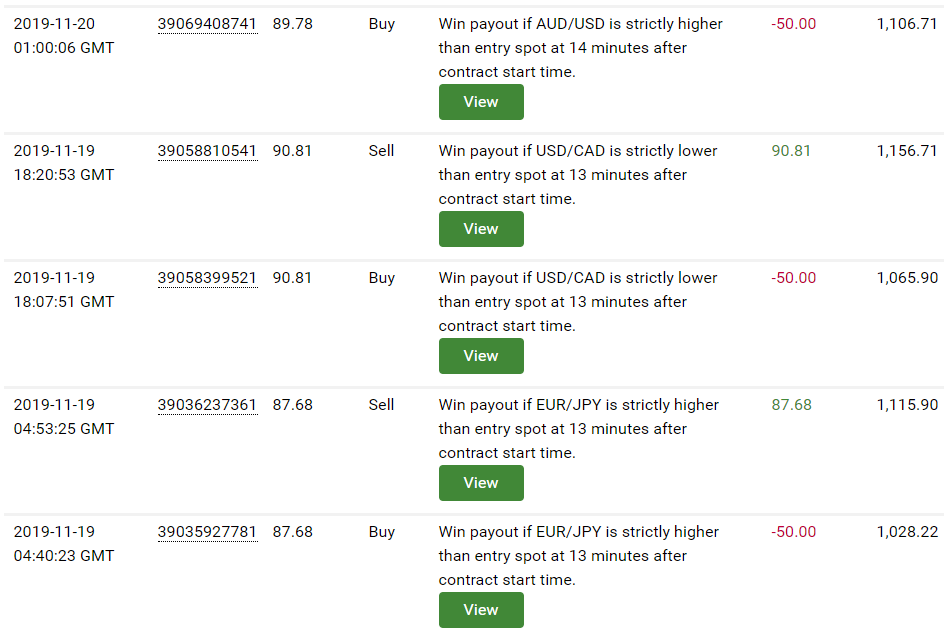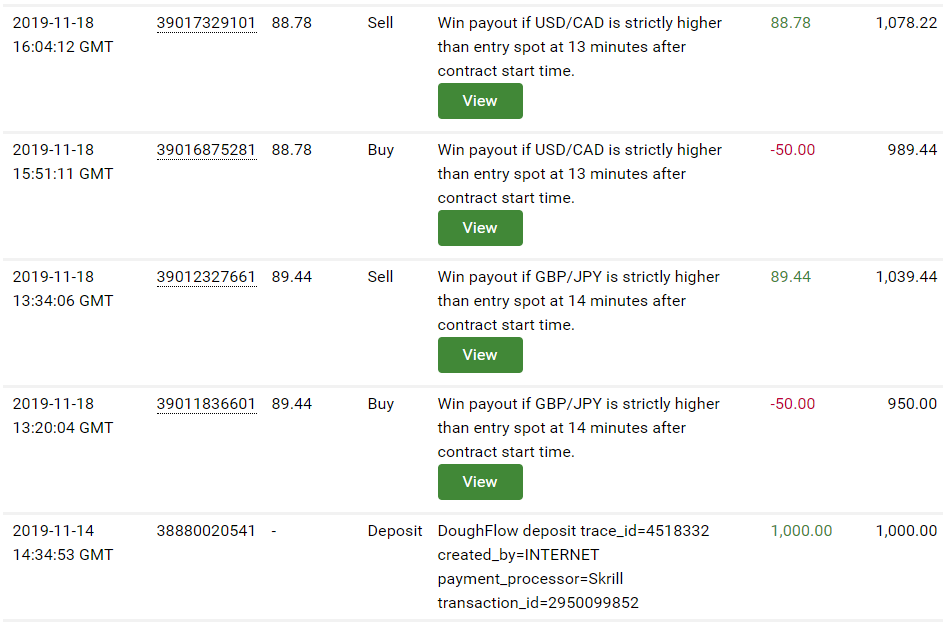 Please note that the past performance of any trading system is not necessarily indicative of future results. Full terms and conditions are given here
FRZ Binary Blaster – Binary Bot Auto Trader