This EA uses moving average crosses and RSI to enter into trades along with many other conditions to filter out false signals. EA has an inbuilt choppy market filter and also you can set the time duration during which the EA should work. Optionally, you can use the martingale lot resizing as well.
EA Specs
Product name
FRZ MA+RSI EA
Platform Supported
MT4
Time frames supported
H1
Recommended pairs
EURUSD, USDGBP
Recommended market sessions
European Sessions
Recommended broker

EA works with any forex broker. EA is FIFO compliant and supports US brokers as well.

However, we can recommend ICMarkets. You can get 30% lifetime discount on spreads and commissions if you use our IB code: 23649 in ICMarkets new registrations or transferring existing accounts. However, if you want to join our VIP Club, then you need to use ICMarkets IB Code: 60207.

Recommended min. deposit
Any amount; however lot size to be decided given the deposit size.
VPS Requirement

You need to run the EA 24/7. VPS is recommended unless you can keep your PC running 24/7. We can recommend this provider as a VPS provider, which is fast and affordable. 4GB RAM VPS is enough for this EA.

Current version
2.0
Settings: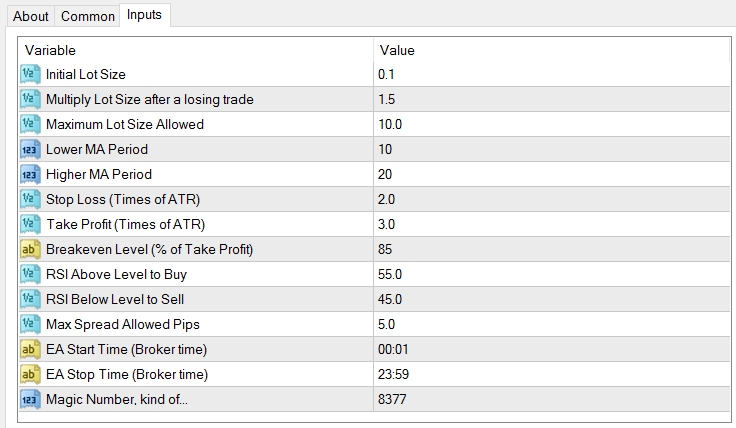 How to install:
Copy and EA to the MT4 Expert folder.
Refresh/restart MT4
Load the EA on the recommended pairs
Change the settings if necessary
Setting explanations
Lot size => Here you can set the lot size. Please make sure the lot size is in line with your deposit. Do not have large lot sizes if you have a small deposit.
Multiply Lot Size after losing trade => You can set the martingale lot sizing here. If you don't need martingale, then keep this as "1".
Max Lot Size => This is useful if you have martingale; if the martingale makes the lot size more than the size mentioned here, then the trade will not be taken.
Lower MA Period => This the lower MA period considered for MA cross
Higher MA Period=> This is the higher MA period considered for MA cross
Take Profit => TP is set as a multiplier of ATR at the time of entering the trade (not in pips). For instance, if the ATR was 15 pips at the time of the trade and here you have entered 2, then your take profit would be 30 pips.
Stop Loss => SL is also set as a multiplier of ATR.
Breakeven % of TP => Breakeven is set as a % of the TP (Not in pips)
RSI Above Level to Buy=> Buy trades will only be made if the RSI is above this level
RSI Below Level to Buy=> Sell trades will only be made if the RSI is below this level
Max Spread (Pips) => this is the spread filter. If the spread is more than what is specified here, no trades will be taken.
Trading Start/End Time => Here you can have a time filter for the EA. For instance, if you want the EA to run during a particular market session (E.g. London), you can simply set the start and end time accordingly. Please note the time given are based on broker's server time (i.e. MT4 time).