This is a trading assistant tool (EA) designed for the popular NNFX method traders. It features on-screen Buy and Sell button that will create trades with SL and TP that are based on ATR. Lot size is based on the % of the balance. CLOSE button will close all trades. P/CLOSE will partially close the trades and move the SL to Breakeven. Optionally, you can activate a trailing stop for the continuation trades.
All given options are customizable under settings. Further, this EA enables trading as per FIFO rules and thus fully supported for US brokers. Please note if you are using automated partial close and trailing stop functions, you need to have the EA running on chart throughout the trade.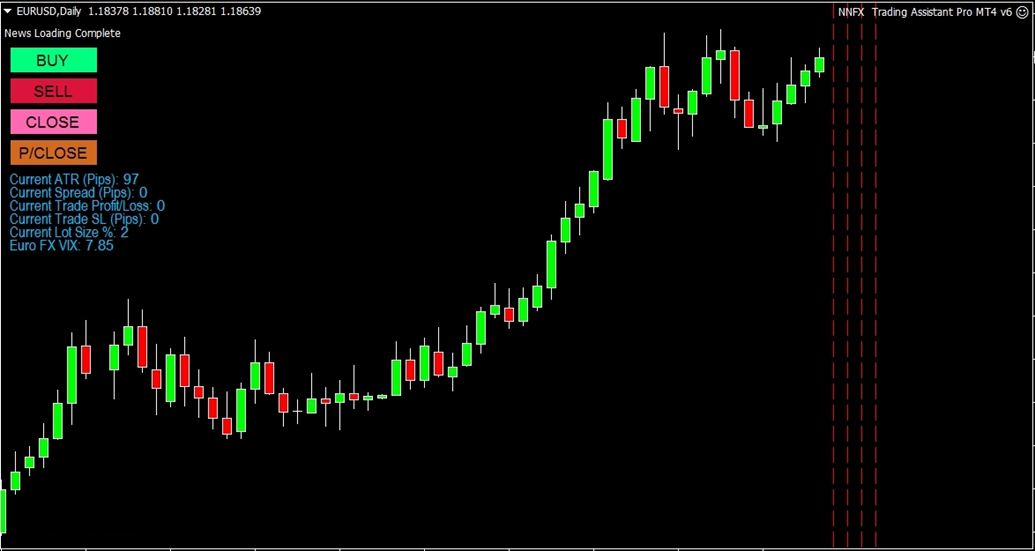 NB: Trading buttons can be dragged and moved to any place on chart.
Additional features in the Pro Version:
Auto Partial Close on Reaching TP
EA can automatically close the trade partially when the TP level is reached subject to the settings. If the trade is partially closed, then the SL will be moved to breakeven and optionally a trailing stop can be used for the remaining partial trade.
EURO FX VIX
EA features EURO FX VIX index which is automatically updated from barchart.com. You can specify how often you need to update it under settings. Make sure you have allowed https://barchart.com under MT4 options.
Inbuilt News Updates
News updates are built-in and the EA will show all the up-coming high impact news events on the chart as vertical lines. News updated are automatically downloaded from investing.com. All the upcoming news of the relevant pair + USD will be displayed on chart as vertical lines. Please add http://ec.forexprostools.com/ under allowed urls in MT4 settings for this to work properly.
News Guard
News guard protects on-going trades from sudden large movements due to news spikes. EA will shrink the stop loss just before the news release and then reset the stop loss to the previous levels just after the news release if the SL was not hit. (You can set when should shrink and when should reset under settings).
Weekend Guard
If you keep trades over the weekend, there is a risk that there are major fluctuations in the weekend causing the price to hit SL at the start of the market on Monday. To protect the account from this risk, the EA can shrink the stop loss few minutes before the end of Friday and then reset the stop loss to the previous levels few minutes after the Monday open.